The Distinguished stretch for mind & body
Stretch and decompress your spine while you sleep
Recharge the mind, stretch the body. All you need to do is lie down and MagniStretch will do the rest of the work for your body's well-being, stretching your back every night.
The MagniStretch mattress is made of layers of both Eliosoft soft support foam and Elioform firm support foam. These layers feature unique, inclined support zones of the MagniStretch technology offering more flexibility and support for your back. The cover is quilted in Memoform for more contouring comfort, and the cover material is made of breathable and natural Viscose and temperature-regulating Outlast. Each model also features a 3D band around the cover for enhanced breathability.
Stretching has never been so relaxing
The special layer with inclined sections uses the pressure of the body to stretch your back from cervical and lumbar area towards the lower back and the feet. This movement increases the space between the vertebrae, distributing the weight more evenly. Muscle tension and contractions will dissolve during sleep. These benefits were certified by the ACA as further evidence of the beneficial effect of the MagniStretch mattress.
In the heart of the mattress

Cover in removable Outlast® and Viscose
Padding in Memorform 2 cm
Padding in Super Soft Fiber
The base layer, made of an Elioform layer of 8.5 cm, is designed to ensure an optimal support of your back.
1. Eliosoft with patented Stretch core shaping 5 cm.
2. Elosoft with patented Stretch core shaping 8.5 cm
3. Elioform 8.5 cm
MagniStretch ensures long-term benefits to the back by reducing muscular contraction and vertebrae compacting. It also reduces neck and back pain due to bad postural habits. Nigh after night, you will experience the benefits of MagniStretch on your body and in the quality of your life.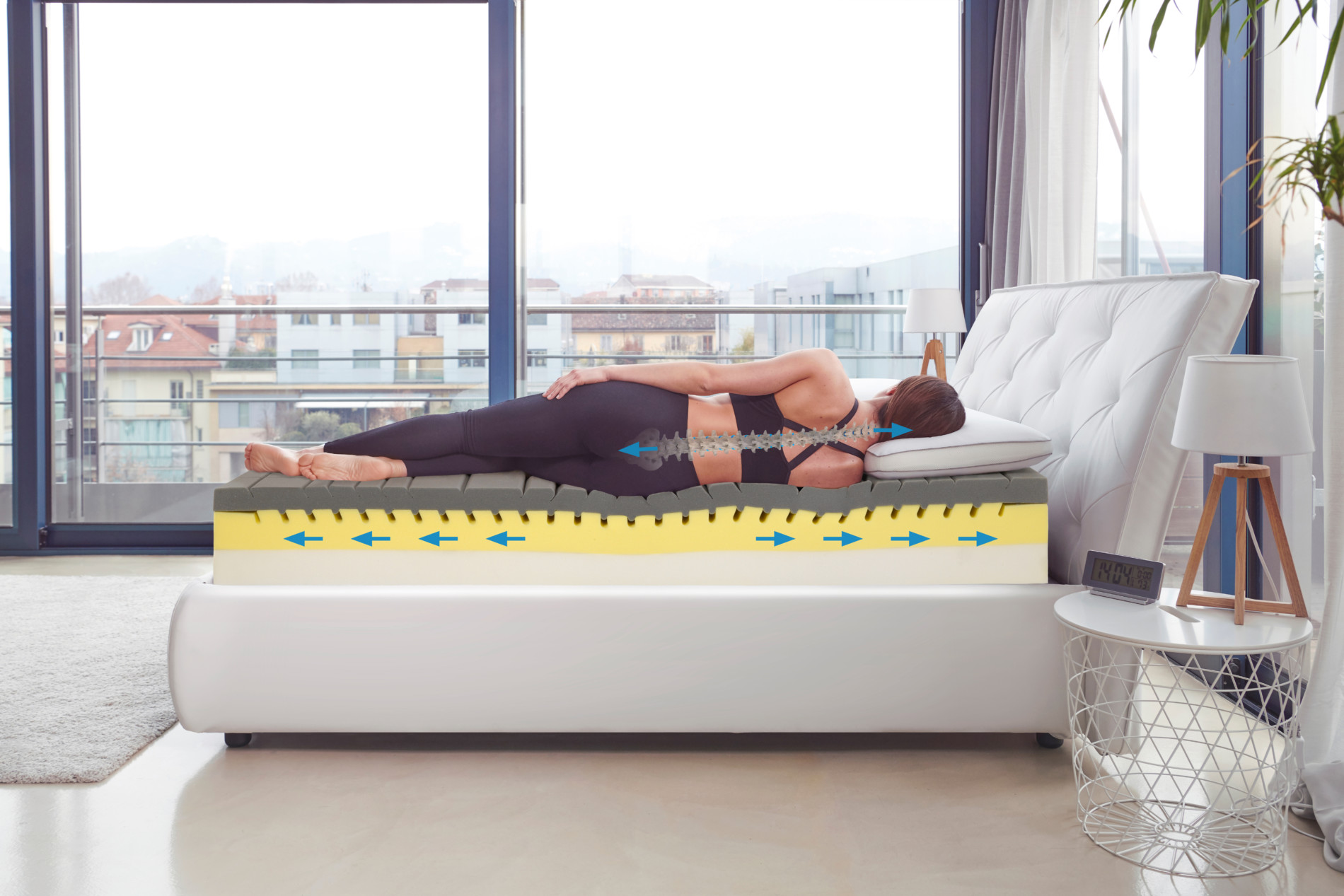 Exclusive – Embracing – Diversified support for
each part of the body – Medium Support
Padding in Memoform 2 cm and Super Soft fiber. Layer in Eliosoft with patented Stretch core shaping 5 cm, Eliosoft with patented Stretch core shaping 8.5 cm, Elioform 8.5 cm
Outlast / Natural Viscose
Removable / Dry-cleanable
Discover all the collections of mattresses signed by Magniflex