The Toscana line is a collection of mattress developed in harmony with nature that will cuddle you when you sleep while respecting the environment. It is perfect for those who want to make an ethical choice without compromising the comfort.
The balance between technology and nature, the perfect harmony to enjoy optimal sleep. The Toscana collection was designed to provide matchless comfort with nature in mind for eco-friendly comfort while you sleep.
Elements in perfect harmony
The use of natural materials gives the Toscana line remarkably relaxing properties. The cover in organic cotton, cool and pleasant to the touch, is GOTS-certified. This certification is proof that the fabrics are manufactured in respect to you, your family and the environment. The mallow extracts contained in the fabrics have relaxing properties, while the anatomical Memoform foam and Elioform provide a pleasant feeling of relaxation throughout the night.
Different comfort levels for couples
The mattresses of the Toscana line ensure an optimal sleep, even for two people sharing the bed. With the Dual Core technology, each partner can choose the comfort level that best suits their individual needs.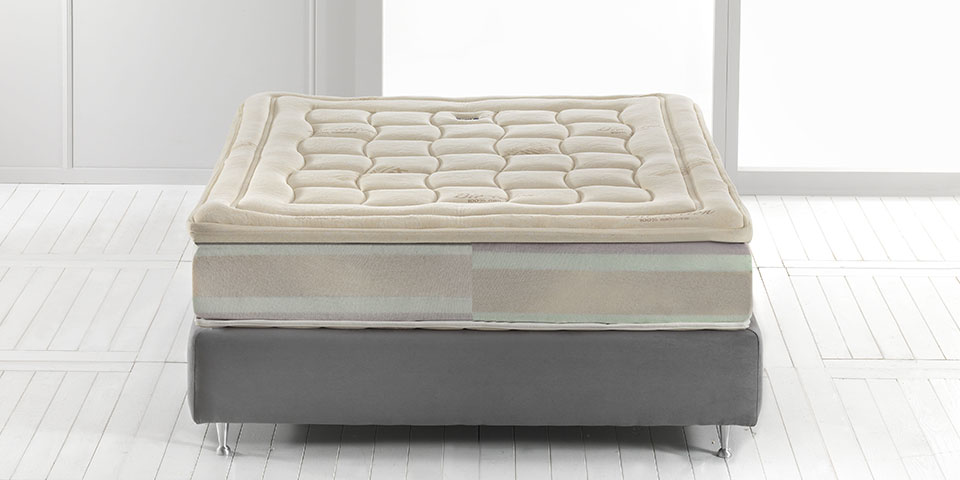 In the heart of the mattress
1" Mallow Foam
2" Geomemory Aloe Vera
6" Soy based Ecogreen (support foam)
1 ½" Geomemory Aloe Vera
Dual Core – Gentle support
Ecogreen, Geomemory, Super Soft Fibre, Mallow Foam
Extracomfort, Breathable, Embrancing
Organic Certified by iCEA (GOTS 2016-010)
Removable / Dry-cleanable
Discover all the collections of mattresses signed by Magniflex